The first five years at Saps at Sea have been plenty busy. Before looking at what lies ahead, I think it is appropriate to reflect back on what we have ALL achieved together. Our first meeting saw over 50 Laurel and Hardy fans turn up at the Fish & Firkin to support the new Southend Tent. What a boost that gave to the original committee. I am delighted to say that some of the original attendees at that meeting have continued to support Saps At Sea since then. Needless to say, we have lost and gained other members along route – that's the way it is in life. The important thing is that we know we are fulfilling our pledge to have fun at our monthly get-togethers courtesy of Laurel and Hardy. We have also managed to have a number special guests join us, including Sons from other parts of the UK and America. With a bit of coverage on local radio, in the press and on cable TV we have also been fortunate to promote our non-profit club. We played host to Laughing Gravy Tent of Birmingham and other Sons in March 2001 and were joined by Channel 4 cameras to make a very sharp and crisp 7-minute film about the Sons of the Desert. Our BIG event was in the following year, May 2002 when we celebrated in style the 50th Anniversary of Laurel and Hardy's visit to Southend by staging the UK Convention. When Sir John Mills and other celebrities unveiled the commemorative blue plaque on the Pier, it was one of the many highlights of a truly remarkable Convention. In addition, Saps At Sea members have supported other Laurel and Hardy events including UK, European and International Conventions. So much has happened that it seems impossible that the Saps have only been sailing for five years.
Your Grand Sheik may have no authority whatsoever, but I am going to take this opportunity to use my authority and make sure that the editor of The Perry Winkle prints this message. Thank you everybody - Your support, hard work, loyalty and sense of fun have made the Saps At Sea a tremendous success. May it long continue.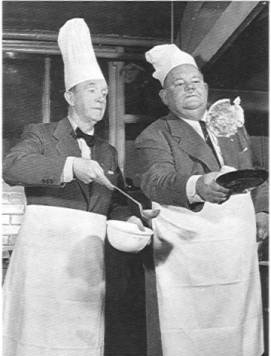 There are already a number of exciting Laurel and Hardy events planned for next year: -
(1) The Saps At Sea are hopeful that our great friends Bud and Steve will be topping the bill in their Laurel & Hardy tribute sketch "Another Spot of Trouble" in a best of The Music Hall & Varieties Show at The New Empire Theatre, Southend at the end of March. The show will also include tributes to Max Miller, Flanagan & Allen & George Formby. This is hot off the press and I will keep Saps members informed of further details.
(2) The Saps At Sea hope to be visiting Jitterbugs Tent in Dublin in April. It is our plan to make a weekend break and as we are travelling via Holyhead to Dublin we will be taking Bud & Steve along with us. Once again, more news soon.
(3) The UK Convention will be taking place at Smokies Hotel, Friday 30th April – Monday 3rd May and hosted by Blotto Tent of Tameside. The weekend includes Jazz Band, Narrow Boat trip, Film Show & a 25th Anniversary of UK Sons of the Desert. The inclusive cost is £180 and further details can be obtained from Bowler Dessert or via myself.